Post by Darth Ares on Jul 21, 2015 14:01:16 GMT
As you might'a noticed me talking about in the cbox, I've just started running a tabletop campaign in the West End d6 Star Wars system. I'm doing this with a pre-established group of friends - we've already played a successful Monster of the Week campaign together, and most of us have been part of an Ars Magica campaign for quite a while as well. This was my first attempt running something myself, and boy was it memorable. I was asked to share things here, and I think you're all going to quickly agree this was a good idea.
Today we had four characters (our fifth was absent). These were Yuka Vosh, an Entymel who was captured by the Empire and forced to work as a slave-pilot before escaping, Burt Macklin, an human outlaw rookie pilot (two templates lovingly smashed together) who swore vengeance against the people who killed his parents whilst he was away on a shipping run (he just doesn't know who they are), Scaya, a 2.7m tall Frozian whose species is dying after the Empire glassed their planet and destroyed an enzyme they needed to live, and Mir, a protocol/espionage droid owned by Scaya who the group found in one of their freighter's lockers.
Our adventure today charged our heroes with infiltrating the base of the fearsome Pirates of Praxia (lead by their savage Barabel leader, Vangar) to recover some stolen Rebel supplies. Character creation naturally took a fair while, mostly due to there being a huge number of species to choose from, so we only had about an hour or so left for playing. As this was my first time GMing, I was running the starter adventure included in the core rulebook. It included flavour text, a map of their base, rolls to make, approaches the player could take, everything you'd need.
Or so I thought.
After delivering the introductory exposition and introducing our characters, our adventure began with the heroes discovering Mir stored in one of their lockers (note that it's meant to begin with them overlooking the pirate base, but they hadn't met Mir yet). This occurred when one of them heard him slamming into the locker; this I fluffed as the inertial dampeners temporarily failing. After debating selling him and deciding Mir could potentially be of help in their adventure (due to his high Perception and high Languages skill), we jumped ahead to the start of the adventure: them overlooking the pirate camp, an hour before dawn. For reference, the camp was surrounded by an electrified stun fence.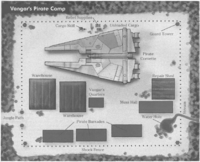 Before we began in earnest, I took the time to clumsily dump exposition as to what they saw. This provided a valuable lesson - see, the adventure wanted them to read information off of a script, which I didn't like (I didn't want to give them something and say "have your characters say this"), so I instead provided the information. This was a mistake, and after providing too much I realised I was dumping exposition, summarised the rest, and we continued forward. I drew the map up on the whiteboard in the room, so I didn't even
need
the book's full descriptions.
Now, the book addresses two main methods they might infiltrate the base. Method one is to cut the power. Method two is to sneak in through the pipe that allows the stream to run under the electric fence, explicitly noted to be a narrow squeeze for a human. With a 2.7m fridge and a protocol droid? Yeah, right. The book also covers a few other possibilities, such as trying to leap the fence; one of the players suggested this, but decided against it (the book specifies they need to pole-vault over it). So, what they decided to do instead was sneak around to the rebel supplies, shut the fence down, get the supplies, and sneak out through the fence again.
To get to the supplies, they needed to sneak around the guard tower, which was manned by a pirate sentry. Mir and Scaya, a protocol droid and a 2.7m fridge, passed these roles easily. Burt and Yuka, the human/human-sized characters, failed them miserably, and their sounds drew the attention of the sentry. In the pre-dawn gloom, the sentry couldn't make out anything, so he shone his glow rod down to investigate the source of the sounds.
Scaya responded by braining him with a rock.
I almost (but not really) wish I was kidding. Scaya picked up a rock, and aimed for his head. I told her to make a grenade/thrown weapon (whichever was higher) roll, as I figured a rock was close enough either could suit. I then told her to subtract two d6 - one for the bad lighting conditions, one for aiming for the precise target of his head. I assigned a difficult number I can't remember, Scaya threw, and hit. She then rolled damage. Since rocks don't have stats, we just used a club's stats - her strength roll, plus one extra die (in hindsight, I should have just said her strength. Not that it'd have made much difference - remember, her Strength is 4D + 2). The poor bastard then rolled his miserable 2D of strength to resist damage - wasn't even wearing a helmet.
End result? 15 damage, mortally wounded on the spot. Note that a damage of 16+ kills them outright. Poor bastard didn't even get to cry out, just slumped over the side of the tower and dropped his pistol and glow rod. To my surprise, they didn't pick them up or anything - to my regret, I neglected to bring them up later (I could have had another pirate notice the light). Anyway, they then made it to the fence, and Burt tried to shut the fence down. Failed his roll (by about 3 points) and ate 5D worth of stunning in response. With their main technical character slapped with a -1D penalty to all rolls for the next few minutes and the sun soon to rise, our heroes hatched a daring plan.
See, Yuka's race is capable of gliding. So, Yuka climbed a tall tree, glided over the walls of the pirate base, and began yelling as loud as she could to attract the attention of the pirates. She succeeded, and many of them, being pirates, began shooting at her.
With the pirates summarily distracted, Scaya took the opportunity to throw the protocol droid over the fence. Mir then proceeded to ace his stealth roll, sneak over to the repair shed, and then ace his search roll, locating a remote that remotely shut off the electric fence. Note that, by this point, we only about about ten minutes left, so things were getting a bit rushed. Mir then proceeded to ace his stealth roll back over to the others, whilst Yuka succeeded in dodging the pirates shooting at her. With the fence offline, Scaya simply held it open and they stepped through.
The book then calls for the heroes to load the crates onto the cargo skiff and make a daring escape under heavy pirate fire. My players had a better idea.
Steal the pirate corvette.
To this end, Burt ran up to the door. The other pirates consistently failed to notice our heroes. Burt's security skill to slice open the door into the corvette was 4D - meaning he could get a maximum of 24. Because I wanted to give him a chance of success, and it was the end of the session, I set the difficulty to get the door open as 21 - the low end of a Very Difficult roll. That mean he had a tiny bit over a
2.7% chance of rolling it
.
Oh, you better fucking believe he rolled it. They could not stop acing their rolls.
With the door open, Scaya, having lashed the supplies together with some syntherope, used her monstrous strength to haul them up the loading ramp into the corvette. Yuka, meanwhile, had lost enough altitude that she was forced to land on the roof of one of the warehouses, cut off from the rest of the party by a loose ring of pirates. She was trying to figure the best way to make it to the corvette when the pirates stopped firing, and Vangar himself entered the fray. His threat was simple: come down from there herself, or he would blast each of her limbs before blasting her head.
The session ended there.
Our heroes now face two main challenges: one, they need to slice their way into the corvette's systems without an ignition chip, cold start the engine, and find a way to fly her out with about 22% of her required skeleton crew. Two, Yuka needs to escape her predicament - and, perhaps, find her own way off-world. The group's ship is still landed several kilometres away - perhaps she can make it there.
I learned a lot this session - about the crazy ideas players have, about the level of detail I should include, about how important it is to be aware of players' skills/attributes so I can tailor challenges, how to prepare (my strategy for the time being is going to be 'dot-points, prewritten encounter ideas I can pull whenever, and improvisation - and maybe some pre-drawn maps each time, the map really helped today'), and I'm getting a feel for which difficulty ranges I should be using for what situation.
For reference, this adventure in the rulebook is divided into three episodes. Episode one, they sneak inside the camp (preferably through the stream or by slicing through the fence), sneak through the camp, and load the cargo onto the skiff. They're then detected and need to fight their way out of the camp aboard the skiff. Episode two, they're chased through the jungle by several pirate speeder bikes, and narrowly dodge an ambush by two AT-PT walkers. Episode three, they reach their ship and take out the pirates preparing to blow their way outside whilst Vangar, aboard the pirate corvette, shouts angry threats above. They then get about their ship, blast for orbit, and punch it to lightspeed whilst Vangar does his best to shoot them down.
So far the players have torn the script into about eight pieces and are priming the Death Star to turn the rails into another Alderaan.
I can't fucking wait for next session.