Post by Darth Reaver on Jun 26, 2019 19:12:18 GMT
Name: Calan ap Ladreg
Sith Name: Darth Reaver
Species: Human
Homeworld: Edusa
Gender: Male
Height: 5ft 8
Eyes: Grey
Hair: Brown
Skin Color: White
Left Handed

Appearance: Average sized, with short brown hair and Slate grey eyes (Yellow when force induced).
Personality:
Demeanour: Director
Nature: Soldier
Goal: To help the Sith take over the Galaxy
Languages:
Speaks, Reads & Writes Basic
Speaks, Reads & Writes Mandoa

Back Story:
The exact date Of Darth Reavers birth has gotten lost in the mists and vagueries of ancient history. With the dating System having changed at least twice during the more than a millenia he spent in hibernating stasis. On rough reckoning it is around about 1130 bby.
Born into a Jedi family on the Outer Rim planet of Edusa, which at the time was nominally Galactic Republic territory near the borders of Sith Empire space. Several Generations before his birth, his family had found the planet and system unprotected and the target of regular raids by both Sith and pirates and outlaws. They had stayed to protect the citizens and inhabitants and over time the area had become an oasis of peace in a surrounding sea of chaos and war. Gradually the inhabitants had began to look to the resident Jedi to not only protect them but to lead and rule them as well. Other Jedi had come, to serve as Bannermen to the ap Ladreg family, who became known informally as one of the small number of Jedi Lords ruling over Territroy in the name of the Republic.
Calan ap Ladreg was the born the second son of the ruling Lord Nairb ap Ladreg and his wife Danars ap Ladreg, nee Tettror. Herself coming from a bloodline of powerfull Jedi. When he was old enough, Nairb asked one of his trusted banner men, Master Troberc Sott, to take him as his padawan learner. He was trained as a Sentinel, to protect the planet, its citizens and the ruling Lord. From a young age he knew he was expected to become bannerman to his brother Reyo, who was three years older than him and would take over as Lord upon his fathers death. Despite being known for being impatient, he was granted the rank of Jedi knight when he was about 18.
When he was 20, his brother was sent on a vist to Coruscant, by his father, to learn more about the Galaxy at large and to try and convince the senate to devote more resources to the outer rim. It was a testing time for the Jedi order. The Jedi council, and most of those in the temple never got beyond the core. They knew little of the chaos in the mid and outer rims, and the councill in particular had become more goverment beaurocrats than protectors. They had also grown increasingly doctrinaire, coming up with rules they insisted all Jedi had to obey. Sayinh that Jedi had no place ruling territory or having families, and insisting that they all follow the rule of the senate. Meanwhile out on the rim, the Jedi there, who were actually engaged in actively keeping the peace and protecting the population, took as llittle notice of them as they could get away with. During his visit however, Reyo came under their influence and, young and idealistic, began to believe they were right.
When Nairb died, taking reinforcements to the aid of another Jedi Lord under attack, Reyo returned to Edusa. He declared that he wouldnt take up his fathers position and that indeed the Republic would from henceforth protect the planet. Calan tried to persuade him that this was not a good idea, but Reyo wouldnt listen. He dismissed the Bannermen and suggested that they should all return to Coruscant with him. This suggestion was ignored as they dispersed throughout the outer rimm to the territories of other Jedi Lords. He persuaded Calan to come with him and at least visit Coruscant, hear what the masters of the Council had to say for himself.
They set off for Coruscant taking a roundabout route that would allow them to visit other Jedi Lords and old allies on the way. Unfortunately on the way they received an urgent comm from Edusa. The planet was under attack by a large group of pirates and mercenaries. Their pleas to the Republic had been answered that they had no resources or assets in the area. The planetary militia was outgunned, outnumbered, suffering from the lack of leadership caused by the departure of the Jedi and slowly falling back under fire.

Calan and Reyo arrived in the aftermath of the attack with buildings still burning in the background, dead bodies littering the streets and the cries of the wounded echoing through the night sky. Stalking through the streets, Calan saw and recognised the bodies of people he knew, people who had been his friends, people he had been sworn to protect and his anger bubbled up. He turned on his brother and berated him for abandoning his post and his people, pointing out the bodies of people they had played with as children. Unsatisfied with his brothers hesitsnt replies, all about the Republic and the Jedi councill, he grew further enraged. Drawing his lightsabre he held the tip of his blade uder his brothers chin. He told him that he might have given up his lordship and protecting the planet but that Calan hadnt. That the republic hadnt protected this planet for generations, that their family had, and if the Republic wasnt prepared to protect what was their territory, then it would no longer be part of the Republic. He then ordered some of the mIlitia, who had begun to aim their blasters at Reyo as Calan spoke, to escort his brother to his ship and make he sure he left. Wordlessly he then turned his back on his brother and began to walk down to street to provide what aid and comfort he could to the citizens.
The reaction of the Jedi Council and the Galactic Republic was swift. Calan was dismissed from the order and declafred a rogue Jedi. The republic proclaimed him a traitor and a usurper and launched an expedition to recover their 'stolen' territory. This outraged the population of Edusa, the Republic hadnt been prepared to protect them.now they were going to attack them. Meanwhile Calan was busy on the comm unit contacting his families old allies and pleading for their help. Most were apologetic, they understood why Calan had done what he had done, but if they were to take up arms against the republic in aid of him, then the same things would happen to the, putting at risk the populations and people they were sworn to protect.
Getting nowhere with his erstwhile allies, he turned to former opponents. Getting in touch with mercenaries and raiders that his family had captured during attacks and battles and then released. A few agreed to aid him. He reoganised the Militia, selected new officers, then using his knowledge of the planet and the surrounding system, he began to plan a defensive strategy to hold off the Repulic forces whilst causing a few casualties as possible. He beat of this attack, capturing weapons and supplies he used to restock his own armouries. Some of the Republic prisoners were convinced to replace a portion of his casualties, whilst the rest were sent back with a message to leave him alone.

The Republic ignored this message and began a harrassment campaign, low level raids and attacks as they built up forces and made plans for their next invasion. He beat this one off as well, though using slightly more aggressive tactics. The cycle would continue to repeat itself, though each attack cost him more casualties which were never fully replaced by the prisoners he managed to persuade to help, and his tactics became more aggressive with each encounter. His communications with his former allies became more and more frantic, as he pleaded for assistance. Eventually Republic persistence paid off and it looked like Calans men were about to lose, when an unexpected ally jumped into the system offering their assistance, A Sith Lord called Phobos and his forces. Pushed further and further to extremes Calan agreed.

For Troberc Sott, his former Master, this agreeing to Sith help was a step too far, especially when he learnt that Clan had returned the favour a month or so later when the Sith's territory had been attacked by rivals. He agreed to lead the next Republic attack. Captured during it, he was lead in front of Calan who was outraged. In a fit of fury he executed his former master. Needing allies, Calan ageed that Edusa would join the Sith Empire, and that he himself would join the Sith.

Over the next few years Calans forces were instrumental in the defence of the Territories of a number of Sith, all allies of Phobos, and as they did their reputation grew. They never lost a battle, once committed to an attack they never withdrew untill it was accomplished, and as their legend grew, so did Calans forces as he recruited form mercenaries and Republic POW's.

As time passed he married an Edusan woman called Kara. Eventually he was made a Sith Master. However Calan was frutrated at how factionalized the Sith were, with some Lords prioritizing beating their rivals within the order, over beating the Republic. Then 15 years after he met him Phobos was killed in a battle with a newly emboldened Galactic Republic. Their Intelligence had told them at the level of disunity within the Sith and they had decided to capitilize on this by attacking. At around the same time his wife gave birth to his son Sai ap Ladreg.

At a meeting of Sith Masters to plan the defence of the Empire, Calan proposed a plan. He pointed out the route the republic forces were as they advanced through Sith space. Their was a planet, almost uninhabited, and normally of no value. Now however, the Republic was using it as a jumping off point. If they attacked that planet, then the Republic would have to recapture it before they advanced any further into Sith Territory, or if they bypassed it, it would leave a strong point in their rear from which the Sith could harrass and attack their supply lines. His plan was for his forces to lead the attack, get the Republic to fully committ to fighting his men, then further two Sith Lords forces would land and attack the republic from the rear and flanks. Whilst this was happening other Sith Lord and their forces would launch raids and attacks across the borders to divert resources away. Once they had defeated the republic forces the three Sith would each leave a portion of their forces their to protect the planet from future Republic attacks. This plan was agreed too.
At first everything seemed to be going to plan. Calan' forces attacked and began to drive back the Republic forces on the planet, but as his men got more and more stretched, and the Republic threw in more and more forces to the battle Calan waited for the other two Sith Lords forces to attack. He waited in vain. After nearly a week when the Sith ships in orbit over head reported yet more Republic task forces jumping into the system, Calan admitted defeat. He began to withdraw his forces slowly in a fighting retreat to an area from where they could be flown back to the ships and avacuated. Being told that the Ships were about to leave without his men he sent a number of his most trusted men up to hold the bridges of the ships at blaster point until the evacuation was complete.
At the final evacuation zone, he was forced to leave behind a lot of his wounded who continued to hold the perimeter in order to allow the rest of his forces to escape. Onboard the ships his forces were in chaos. Basically they had been boarded as they had arrived at the evac point. Now all the units were mixed up and the wounded they had brought out with them were in desperate need of treatment that they couldnt get under the current circumstances. Once claer of the system and back in Sith space therefore, Calan ordered the ships to disembark his fores again at the nearest planet, so he could reorganise them, get a casualty count and find out just how big of a disaster this had been.
The reports were even worse than he was expecting, his forces had taken about 33% casualties. He knew then that even if he managed to replace his losses, his forces would never be as good. That they would never operate with as much confidence as they had in the past.
Whilst on the ground he also received a taunting comm from the two Sith Lords who had meant to be reinforcing him. They gloated over him falling into their trap. His fores were now seriously weakened, far away from his own territory which had been left comparatively weakly defended by a small rear guard contingent. They were now going to invade his territory and split it between them they boasted. His wife and young son would become their slaves. When he challenged them on attacking a fellow Sith, when they should have been concentrating on their real enemy, they responded that he had never been a real Sith, that he was tainted by his time as a jedi. They were going to purge the Sith of all those who didnt belong, and once that was done then they would turn their attention to the Republic. Assassins had already been despatched to put him out of his misery.

Calan knew now that the Sith were going to lose, at least for now. Though he still believed that in the future the Jedi would be the eventual losers. He now turned his attention to what needed to be done now. First of all he made a holocall to the senior officer of his forces remaining on Edusa, ordering his to get hsi family into the 'refuge', a secret last chance bunker the ap Ladreg's had made to keep the non force sensitive members of their family and young children safe during severe raids generations before. He then ordered his forces and the civilians to disperse into the mountains and the forests to hide.
Taking a deep breath he then made the hardest call. He holo'ed his brother. He explained he had been betrayed, when Reyo went to speak, Calan spoke over him. He explained about his wife and son and asked his brother to save them. To help he sent all the information he had on the two Sith Lords forces,territories and their weaknesses. He then asked his brother that when he talked to his son about him, not to be too harsh.

He had just shut down the holo comm and was stodd resting his head against it when he received a visitor. A figure out of legends and stories, someone who up until now he had though merely a myth. The Red Sith, Darth Lucifer.

Lucifer offered him a chance to join his army of frozen Sith, waiting for the day when a worthy Dark Lord would have need of them. After a moment fo thought Calan relied that he would, but that first he had something to do. Lucifer told him he would wait and gave him a new name and title, Darth Reaver. Regretfully Reaver dismissed his troops, telling them to take what they liked, and warning them that bad times were coming. Then he prepared an area ready for a duel and sat down meditating on the darkside to await the assasins

When they arrived, their were three of them, young, brash and cocksure of themselves and their powers. Calan killed two of them,cut the arms and legs offf the third, leaving only the torso. The he leant over him and passed on a message for his masters.

"Thanks to you and those like you, our order is doomed to failure. I however will not be around to see this. Our order will rebound, and when they do, they will have need of my experience. So I go now to prepare for that. I regret that I will not be able to take my vengeance personally, but never fear, I have chosen a worthy weapon of vengeance. I have sent my brother, and when the Republic forces crush your territory, tear down your fortress doorway. When you see the lightsabre that is coming to strike you dwon, think of me and know that sound you hear, wll be of my laughter" . He then turned his back and walked away to join the watching Massassai warrior and follow him to be put into hibernation that was to last over a millenia

Level: 15
Total Experience (XP): 105000
Basic Path: Jedi Sentinel, Dark Jedi Sentinel
Advanced Path: Sith Lord
Master Path: Sith Warlord
Hit Points: 128
Damage Threshold:
29
Force Well: 213
Saves:
Reflex Save: 29 (Dueling 30)
Fortitude Save: 29
Will Save: 33

Speed: 9m (6 squares)
Equipment:
Weapons:
Weapon
ATK
DAM
Range
Notes
Lightsaber
+19 (Niman)
+15 (Other)
2d8+9
Melee
Electrum & Mandalorian Iron\Phrick alloy Lightsabre with Red flame blade, length is slightly longer than standard. Safety feature turns off blade when its dropped. Switch can turn off the safety.
Lightsaber attacks at this Weapon do not ignore Soak (5). Dueling I perk applied.
Blaster Pistol
+14
3d6+7
Pistol
Cortosis-reinforced SE-14c Blaster Pistol. Lightsaber attacks at this Weapon do not ignore Soak (5). Has STUN.
Lanvarok
+14
3d4+7
Pistol
Custom made from Mandalorian Iron to his own design. Lightsaber attacks at this Weapon do not ignore Soak (5).

Combat knife
Armour:
| | | | | | |
| --- | --- | --- | --- | --- | --- |
| Armor | Category | Soak | Fort. Save | Max. Dex. | Notes |
| Reaver's Armor | Medium | 6 | +1 | +3 | Cortosis Weave Light Armour with Mandalorian Chest piece. Lightsaber attacks do not ignore Soak. |
| Reaver's Flightsuit | Light | 3 | +1 | +4 | Custom-made bloodred TIE Fighter Pilots suit. |
Credits: 20,000 credits

Core Stats:
Strength: 1
Dexterity: 2
Constitution: 2
Intellect: 3
Charisma: 3
Spirit: 3
Combat Proficiencies:
Simple Weapons: 2
Pistols: 3
Exotic Weapons Lanvarok: 3
Armour Profficiency: Medium Armour
Can use Single Bladed Lightsabers
Shii-Cho: 3
Juyo: 3
Makashi: 3
Niman: 4

Skills:

Craft Lightsabre: 1

Astrogate: 1 (+1 Spacer)
Computer use: 2 (+1 Gearhead)
Electronic Community
Diplomacy: 3
Dun Moch
Gather Information: 3
Information is Ammunition
Pilot: 3 (+1 Spacer)
Evasive Maneuvers
Survival: 1
Profession Researcher: 2
Athletics: 2
Acrobatics: 3
Slippery Target
Knowledge Tactics: 3
Knowledge Sith Lore: 2
Knowledge Influence: 2
Knowledge Droid Programming: 2
Knowledge Mandalorian Lore: 1
Sense Motive: 3 (+1 Sharp Eyed)
Detect Intent
Repair: 1 (+1 Gearhead)
Intimidate: 1 (+1 Persuasive)
Awareness: 1 (+1 Sharp Eyed)
Bluff: 1 (+1 Persuasive, +1 Tricky)
Masterful Feint
Gamble: 0 (+1 Tricky)
Iniative: 3

Concentration: 4

Endurance: 3

Assets:
Contacts Mandalorians: 3
Allies Journeyman Protectors: 2
Resource Access
Minions
Influence Duros High House: 3
Influence Gargon: 3
Influence Concord Dawn: 1

Perks:

Force Sensitive

Force Power Perk: Telekinesis
Force Power Perk: Illusion
Force Power Perk: Battle Meditation
Force Power Perk: Force Lightning
Iron Will
Martial Arts
Quick Draw
Spacer
Gearhead
Lightsabre Form Focus: Niman
Lightsabre Form Focus: Juyo
Sharp Eyed
Persuasive
Tricky
Zero-G Training
Danger Sense
Dueling
Battle Analysis
Battle Supremacy
Weapons Finesse

Force Powers:

Sense
Control
Alter
Sense Force: 2
Push/Pull: 3
Force Leap: 2
Force Speed: 2
Force Grip / Choke: 3
Enhance Senses: 2
Telepathy: 2
Telekinesis: 3
Lightning: 3
Jedi Mind Trick: 1
Force Illusion: 3
Force Destruction: 2
Force Healing: 1
Battle Meditation: 3
Crucitorn: 1
Force Crush: 2
Force Absorb: 2
Force Resistance: 3
Dissipate Energy: 3
Force slow: 2
Force Immunity: 2
Force Subjugate: 2
Far Sight: 2
Force Barrier: 3
Force Fear: 2
Force Dominate: 2

Material Resources:
Grey Kestrel - Sorosuub Corporation Horizon-Class Star Yacht

Length: 55 meters
Maximum acceleration: 3,080 G
Maximum speed (atmosphere): 1,000 km/h
Engine unit(s): 2 ion engines
Hyperdrive rating: Class 0.5
Sheilds: KDY military-grade shield generators
Hull: Armored non-reflective hull
Navigation system: Equipped
Countermeasures: False identification transponder
Armament: 2 Retractable CEC AG-1G laser cannon turrets with stutter-fire modification,1 Retractable blaster cannon, 1 Tractor beam projector
Complement: 2 Starfighter (Enlarged Hanger bay
Crew: 1 Pilot, 1 Co-pilot, 1 Navigator, 1 Astromech droid
Minimum crew: 1 pilot OR 1 astromech droid
Passengers: 5
Cargo capacity: 80 metric tons
Consumables: 2 months
Other Systems: Bacta Tank
Sentinel's Revenge - Incom Corporation T-65XJ3 X-wing starfighter

Length: 12.6 meters
Maximum acceleration: 3,700 G
MGLT: 80 MGLT
Maximum speed (atmosphere): 1,100 km/h (higher speeds possible with deflector shields on)
Engine unit(s): Incom 4j.4 fusial thrust engines (4)
Hyperdrive rating: Class 1.0
Hyperdrive system: Incom GBk-585 hyperdrive unit
Power plant: Novaldex 04-Z power generator
Shielding: Chempat "Defender" deflector shield generator[3](50 SBD)
Hull: Titanium alloy hull
Sensor systems: Carbanti transceiver package - Fabritech ANs-5d full-spectrum transceiver (some configurations include PA-9r long range phased tachyon detection array and PG-7u short range primary threat analysis grid) - Melihat "Multi Imager" dedicated energy receptor, Tana Ire electro-photo receptor
Targeting systems: Fabritech ANq 3.6 tracking computer and IN-344-B "Sightline" holographic imaging system
Navigation system: Astromech droid (normally programmed for 10 jumps)
Avionics: Torplex Rq8.Y flight computer
Countermeasures: Aft chaff/flare launcher (1)
Armament: Taim & Bak KX9 or IX4 laser cannons(4) with Stutter fire capabilty ,Krupx MG7 proton torpedo launchers (3), Standard load: 3 torpedoes each
Crew: Pilot (1), Astromech droid (1)
Passengers: None
Cargo capacity: 35 kilograms
Consumables: 3 Days
Other systems: S-foils, Expandable inertial compensator field

Krayt's Talon - Sienar Fleet Systems TIE/D Defender

Length: 9.2 meters
Maximum acceleration: 4,220 G
MGLT: 155
Maximum speed (atmosphere): 1,680 km/h
Maneuverability rating: 175 DPF
Engine unit(s): SFS P-sz9.7 twin ion engines (rated 230 KTU)
Hyperdrive rating: Class 2.0
Hyperdrive system:SFS ND9 hyperdrive motivator
Power plant: SFS I-s4d solar ionization reactor
Shielding: Novaldex deflector shield generators (2) (rated 200 SBD total)
Hull: Titanium hull with Quadanium steel solar panels (rated 20 RU)
Navigation system: SFS N-s6 Navcon[1]
Avionics: SFS F-s5x flight avionics system[1]
Armament: 4 SFS L-s9.3 laser cannons,2 Borstel NK-3 medium ion cannons,2 SFS M-g-2 general-purpose warhead launchers - Standard load 4 concussion missiles or proton torpedoes each, 1 Tractor beam projector
Crew: Pilot
Cargo capacity: 65 kilograms[8]
Consumables: 2 days
Other systems: Ejector seat, Wing-mounted maneuvering jets
Level Special Abilities:
Lvl1: Starting Abilities
Lvl2: Lightsaber Training
Lvl3: Specialist
Lvl4: Generalist
Lvl5: Expert Defence, Contacts & Allies
Lvl6: Minions
Lvl7: Influence,
Lv8: Twister of Thoughts
Lvl9: Skilled Lieutenants,
Lvl10: Influence
Lvl11: Exceptional Minions
Lvl12: Influence
Lvl13: Forces
Lvl14: Master Strategist
Lvl15: Exceptional Lieutenants

Forces:
Army: 3
Troopers (standard infantry)
Special Forces (scouts, terrain-specific troopers, space marines, commandoes)
Heavy Support (heavy weapon troopers, artillery)
Light walkers (AT-STs, AT-ARs, AT-RTs, etc.)
Heavy vehicles (tanks, MTTs, AT-TEs, etc.)
Military Police (riot control troopers, planetary occupation squads)
Air support (air speeders, jump troopers, paratroopers)


Bases: 2
Army Base: Crusader Base
Fleet Base: Hawk's Nest Base
Fleet: 3
Capital Ship Doctrine

Tech Level: 2
Training: 3

Lieutenants:
General Verna Ocantir: A Female Mandalorian and member of the True Mandalorian group, implaccably opposed to the current Mandalorian regime founded by supporters and members of the Death Watch. She wishes to take the Mandalorians back to their ancient practices which she see's as more honourable. The True Mandalorians were supposedly wiped out prior to the Clone Wars, but Reaver managed to track down a small number of survivors and their descendants who had gone to ground after the massacre. She agreed to help him with the recruitment and training of his own forces under the condition that they could recruit and train a force to overthrow the Death Watch regime, which would be hidden amongst Reavers forces untill they were ready . An expert pilot and acknowledged leader of her fellow Mandalorians she is the senior officer within the Jaig Legion and also in charge of its starfighter corps, flies under the callsign Bloodlust Leader.
Commander Kalik Morit: Another member of the True Mandalorian rebellion. Found in the same manner as Verna Ocantir. He is an expert in ships systems. Keeps the Helmet of a dead leader of the group as a souvenir and reminder. Commands the Marines of the Jaig Legion
Commander Corvan Anno: A Mandalorian who is also member of the True Mandalorian rebellion. A skilled tactician and expert warrior, he is a veteran of countless engagements and wears an extremely battered set of armour that he refuses to exchange as he feels it is lucky. Commands the Troopers of the Jaig Legion
Commander Valnas Kon: Yet another member of the rebel Mandalorian faction. He is a sadist and expert interrogator. Also an expert in infiltration techniques. Publicly only the commander of the Jaig Legion's military Police, he also fufill's the role of Intelligence coordinator for Darth Reavers contacts and the Jaig Legion as a whole. Helped to train the reconnaisance arm of the troopers and the special forces of both the Troopers and Marines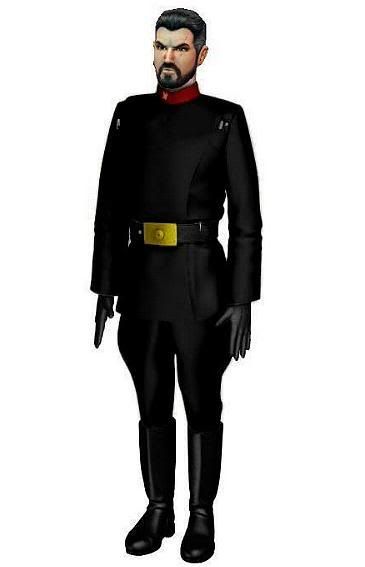 Commodore Pec Darinver. A Devaronian who was originally a Captain the New Republic Fleet. He was captured during one of the early skirmishes between them and the Union Fleet. He spent considerable time in a re-education camp for N.R. POW's. When the call went out for volunteers for the Jaig Legion, he was one of the first to come forward. As much out of a desire to escape incarceration as a belief in the ideals and objectives of the Obsidian Union. He underwent interviews with both Cmndr Kon and Darth Reaver before he was accepted. He now commands the Fleet personnel of the Jaig Legion and acts as captain for their Flagship the 'Xendor'
Senior Colonel Sepp Dorner: A member of the first Old Republic attack on Edusa after Calan ap Ladreg declared independance.He was captured during the battle and was one of those who were convinced to defect and help protect the system. After Calan's betaryal and eventual defeat, he found himself wanted as a traitor by the Republic and facing the death penalty. Unwilling to trust other Sith after his experience, he went on the run. Hearing rumours of ancient Sith Oubliette's he went searching for one and finding one transported it in secret back to the planet Edusa where he took it to the ap Ladreg family refuge where he entered it, in the hope that Reaver would find him on his eventual return. Shortly after Reaver was revived he undertook a short visit to his former home planet and found Sepp Dorner inside it. Now fanatically loyal to Darth Reaver. Serves as Co-Pilot/Mechanic for the Grey Kestrel and commands bodyguard Division of the Jai Legion. Was trained as a Mandalorian by Reavers other Lts
Sub-Commander Deeth Gedyc: 'Death' Gedyc as he is known to those troops who serve under him is both Zabrak and Mandalorian. His parents having been adopted into the Gedyc clan long before the birth of both him and his non identical twin sister Etta. As they grew up they combined into an extremley effective mercenary duo, 'Death' by inclination prefering to work close in and specialising in Melee fighting with knives and swords, although also a crack shot with a blaster rifle, whilst his sister would set up an overwatch position with a sniper rifle providing him with support and cover. When Verna Occantir issued her call to action andbstarted recruiting for the Jaig Legion, both immediatly rushed to join up, though they were placed into different arms of the legion. A member of the Jaig Legions Marines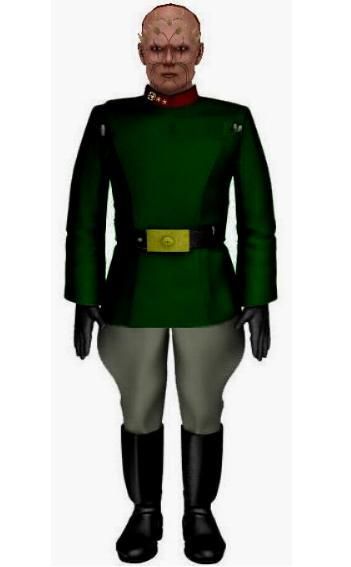 Sub-Commander Bardan Bralor: A Mandalorian who specialised in battles in built up areas, he joined the Legion to help overthrow the current regime. Upon joining his expertise was recognised Cmmdr Morit who picked him as an instructor for the Marines training. He rose rapidly through the ranks until he became one of the Marines Senior Officers with a reputation for taking care of the men under his command and for unconventional but effective tactics
Fleet Captain Tor Carid: An old grizzled and irascible Mandalorian. He prefers to use a model of Armour that otherwise went out of fashion centuries ago. He claims that it has been passed down from father to son from new, though he does admit that he doubts that any part of it is original, but says that repair and replacements over the centuries do not detract from it being the same suit of armour his ancestor bought. Once commanded a Keldabe class battleship in the official Mandalorian fleet, tales of the brutality of the Death Watch during the clone wars and their role in bringing the shadow collective to Mandalore however, meant that he was never a fan of the regime, supporting them only to remove the Empire from power. Thinking himself permanently retired, he allowed himself to be lured back to active service in the Jaig Legion
Senior Colonel Etta Gedyc: The sister of 'Death' Gedyc, she is a Zabrakian who was brought up within the Mandalorian culture, her parents having been adopted into Clan Gedyc many years before she was born. Used to form an effective duo with her non identical twin brother workking as his overwatch. Preferring to work at long distance, she is an expert sniper, able to use both blaster rifles and slugthrowers, and would cover his back picking off reinforcements who got to close to her brother. She is also trained in the use of knives, swords and standard blaster weaponry. Her stealth skills are amongst the best in the entire legion. Part of the Jaig Troopers.
Senior Colonel Hadrian Valens: A former member of the New Republic military. Captured during an early battle during the Union secession. During his time in captivity he became increasingly disallusioned and bitter against both the goverment and the Jedi. The goverment he blamed for a lack of support and the Jedi for not having seen yet another attack coming. When the call was made to the NR P.O.W's he didnt hesitate to join and was assigned to the Jaig Troopers.
Group Captain Trask: A Chiss whose full name is actually Mitt'rask'leo. His background is a closely guarded secret. All that is known is that he was the leader of a Mercenary band of fighter pilots, though most of those who know say that they were in fact more pirates than mercenaries. When the legion was formed and the call went out for volunteers, he was one of the first to put his name down, attracted by the reputation of Lord Reaver. Part of the Legions Starfighter corps, within that arm of the Legion, only General Ocantir is senior to him and there are very few equal to him in rank
Group Captain Leb Fortruck: A member of the Twi'leks warrior caste. Leb Fortuck made his name selling his services to merchants and smugglers, flying various types of 'Ugly' fighters to provide protection from pirates or the authorities. He has joined the legion as it gives him plenty of chances to fly against other pilots and enhance his reputation by his number of conquests and battles he's won. Also flying for the Legion allows him to fly the conventional fighters he could never afford.
Fleet Captain Jinn Bo'sa: Once a member of the NR Fleet. She used to be a first officer on a ship under the command of an officer who was amongst the first to defect to the Union. She was tranferred to her first command two weeks before his defection. After his defection, she felt herself to be permanently under suspicion and felt that her lack of promotion was because of that. By the time of her eventual capture her dissatisfaction was such that she took the first chance she could too volunteer for the Jaig Legion