Post by Darth Xaos on Aug 28, 2019 0:46:30 GMT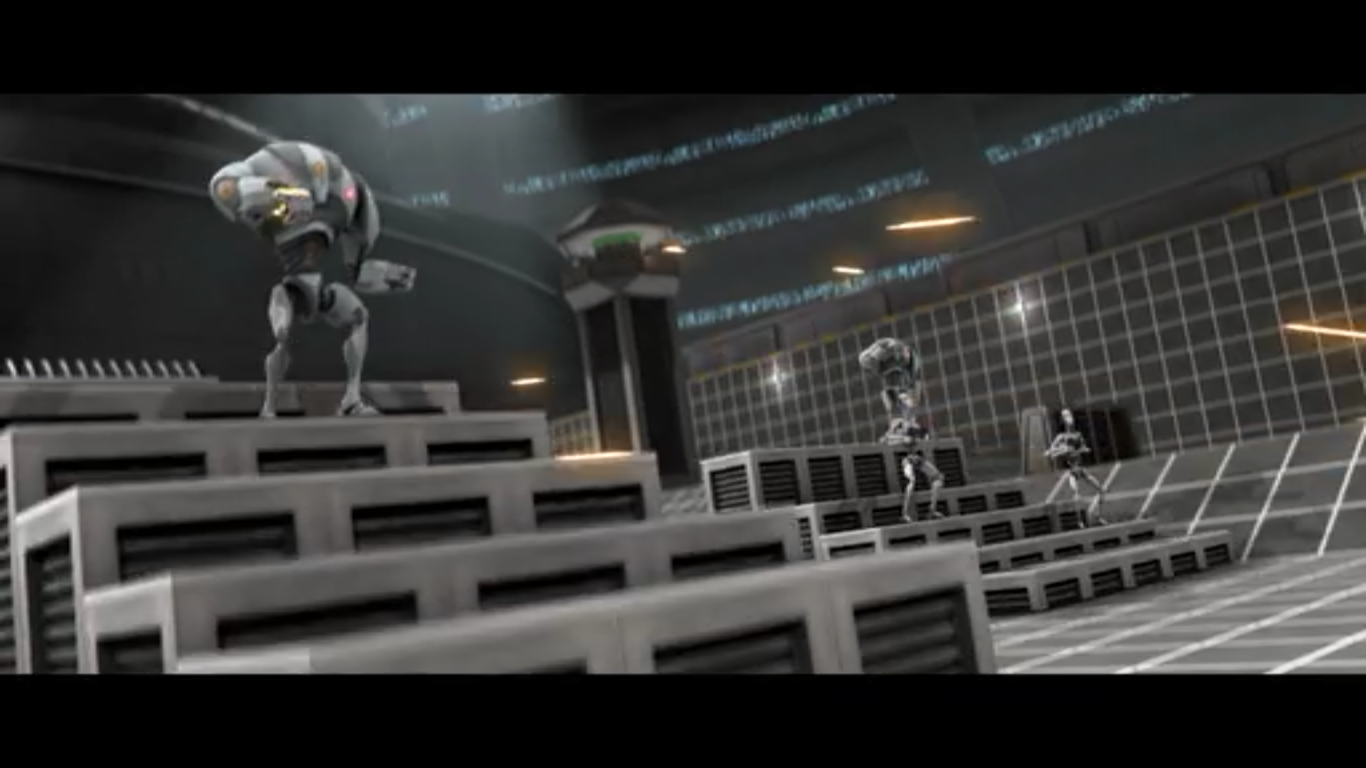 Designed to give the organic commanders of the Unionist Droid Armies a space in which to experiment with and learn how to best use the various battle droids available to them. Using this chamber is a common pastime for Union officers and Obsidian Knights, as it provides an entertaining an social diversion that keeps the mind sharp for battle. The lab itself is a modular artificial battlefield, its size can be adjusted or elevation and cover added as necessary to suit the engagement. A hovering command station is provided for the commanders, from which they can observe the battle and issue orders to their droids.
Rules of Engagement
Two players agree, or the GM decides, on a Challenge Level total, under or equal to which a player's droids' total combined CL must fall. The players or the GM will choose who will be the red player and who will be the blue player; the red player's droids will deploy in the top two rows and the blue player will player will deploy in the bottom two. The GM or players may add elevation and/or cover to squares on the map before deployment begins; elevation grants cover from attacks originating from unelevated squares and attacks from elevated squares ignore cover in non-elevated squares. A square may have both elevation and cover.
First the players roll their own initiative or the GM rolls, this determines which player decides whether they want to start deploying first or second. The players deploy their droids in their deployment zones one at a time, switching back and forth, in the order of initiative until all droids have been deployed. Then the droids' initiatives are rolled; to save time all droids of the same type on the same side share the same initiative roll. The player who finished deploying their droids first gets a +1 bonus to their droids' initiative rolls. Players characters may use non-physical Skills and Special Abilities, as well as Control and Sense Force Powers, on the droids and on each other, but no direct physical interaction may occur between the players and the droids or between each other. A player character always falls immediately before their highest initiative droids in order of action.
At the conclusion of the match, the winner gets 25 XP and the loser gets 10. In the case of a draw, both player characters gain 15 XP.
Droid Stats
Universal Droid Traits: Droids do not have Constitution or Spirit Stats; in most cases they are exempt from making Constitution-based and Spirit-based rolls (except for Awareness Skill checks) or Fortitude and Will Saves, but in those cases where the GM rules a droid would need to roll then the GM determines if it automatically succeeds or fails. Droids are immune to cold damage but vulnerable to and receive no soak against ion and electrical damage; ion damage resolves as stun whereas electrical damage resolves normally. A droid may never use any ability, other than Athletics, Awareness, Acrobatics, Initiative and Stealth, untrained. Droids do not suffer any armor penalties for their in-built soak. If an entry includes a number next to a weapon (e.g.1x, 2x) then that weapon has a limited number of uses. All droids are medium sized unless noted otherwise.

B1 battle droid
CL: ½
Strength: +1
Dexterity: +1
Intelligence: -2
Charisma: -1
Reflex Save: 11
HP: 10
DT: 10
Soak: 5
Speed: 6 squares
Proficiency Modifier: +1
Blaster Rifle ATK +2 DAM 3d8
Blaster Pistol ATK +2 DAM 3d6
Point Blank Shot
Rapid Shot

B1 advanced battle droid
CL: 1
Strength: +1
Dexterity: +2
Intelligence: +0
Charisma: +0
Reflex Save: 12
HP: 10
DT: 10
Soak: 5
Speed: 6 squares
Proficiency Modifier: +1
Blaster Rifle ATK +3 DAM 3d8
Blaster Pistol ATK +3 DAM 3d6
Athletics +2
Awareness: +1
Point Blank Shot
Rapid Shot

B1 assassin droid
CL: 2
Strength: +1
Dexterity: +3
Intelligence: -1
Charisma: -1
Reflex Save: 13
HP: 10
DT: 10
Soak: 5
Speed: 6 squares
Proficiency Modifier: +1
Sniper Rifle ATK +4 DAM 3d10
Blaster Pistol ATK +3 DAM 3d6
Athletics +2
Awareness +3
Stealth +4
Point Blank Shot
Precise Shot

B1 assault droid
CL: 2
Strength: +1
Dexterity: +2
Intelligence: -2
Charisma: -1
Reflex Save: 12
HP: 10
DT: 10
Soak: 5
Speed: 6 squares
Proficiency Modifier: +1
Missile Launcher ATK +3 DAM 6d6
Blaster Pistol ATK +2 DAM 3d6

B2 super battler droid
CL: 2
Strength: +2
Dexterity: +2
Intelligence: -1
Charisma: -2
Reflex Save: 12
HP: 21
DT: 10
Soak: 7
Speed: 6 squares
Proficiency Modifier: +1
Wrist Blasters ATK +3 DAM 3d10 (range as rifle for range)
2x Wrist Rockets ATK +3 DAM 4d8 (treat as heavy for range)
Unarmed Attack ATK +3 DAM d8+2
Point Blank Shot
Rapid Shot
Multi-Shot

OOM security droid
CL: 2
Strength: +1
Dexterity: +3
Intelligence: +0
Charisma: +0
Reflex Save: 13
HP: 10
DT: 10
Soak: 5
Speed: 6 squares
Proficiency Modifier: +1
Blaster Rifle ATK +4 DAM 3d8
Blaster Pistol ATK +4 DAM 3d6
Stun/Ion Baton ATK +3 DAM 1d6 normal damage or 2d6 stun
Athletics: +2
Awareness: +3
Initiative: +3
Insight: +2
Intimidate: +3
Combat Reflexes
Point Blank Shot
Precise Shot
Quick Draw
Sentinel

OOM commander droid
CL: 3
Strength: +0
Dexterity: +1
Intelligence: +2
Charisma: +2
Reflex Save: 11
HP: 10
DT: 10
Soak: 6
Speed: 6 squares
Proficiency Modifier: +1
Blaster Rifle ATK +2 DAM 3d8
Blaster Pistol ATK +2 DAM 3d6
Bluff: +3
Diplomacy: +3
Gather Information: +3
Initiative: +2
Insight: +2
Intimidate: +3
Knowledge (Tactics): +4
Battle Analysis
Assault Tactics
Battlefield Tactics
Combat Expertise

Dwarf Spider droid
Large
CL: 3
Strength: +4
Dexterity: +2
Intelligence: -1
Charisma: -1
Reflex Save: 14
HP: 32
DT: 15
Soak: 10
Speed: 8 squares
Proficiency Modifier: +1
Blaster Cannon ATK +6 DAM 3d12
Stomp ATK +4 DAM 2d12
Athletics: +8
Power Blast II

Droideka destroyer droid
Large
CL: 4
Strength: +1
Dexterity: +4
Intelligence: +0
Charisma: -3
Reflex Save: 16
HP: 40
DT: 15
Soak: 8
Shield Rating: 20
Speed: 2 squares
Proficiency Modifier: +2
Laser Cannons ATK +10 DAM 3d10 (note: range as heavy weapon)
Dual-weapon Fighting
Point Blank Shot
Rapid Shot
Multishot
Power Blast II
Special: A droideka has a deployed mode and a wheel mode, it can change between the two as a standard action. While in deployed mode it uses the above stats, while in wheel mode it cannot attack and loses its shield rating but its speed increases to ten squares and it gains the Sprint Perk.

BX commando droid
CL: 6
Strength: +2
Dexterity: +4
Intelligence: +2
Charisma: +2
Reflex Save: 19
HP: 37
DT: 10
Soak: 6
Speed: 7 squares
Proficiency Modifier: +2
Commando Rifle ATK +10 DAM 3d10
Heavy Blaster Pistol +10 DAM 3d6
Vibroblade +6 DAM 2d6
1x Proximity Mine DAM 6d6
2x EMP Grenades ATK +10 DAM 4d6 ion
2x Frag Grenades ATK +10 DAM 4d6
Acrobatics: +10
Athletics: +4
Bluff: +4
Computer Use: +6
Diplomacy: +4
Insight: +2
Initiative: +10
Sabotage: +6
Stealth: +10
Combat Expertise
Combat Reflexes
Danger Sense
Dodge
Double Attack
Evasion
Hobbling Strike
Improved Disarm
Ranged Disarm
Martial Arts I
Mobility
Point-blank Shot
Rapid Shot
Careful Shot
Deadeye
Far Shot
Multishot
Precise Shot
Power Blast
Lightning Draw
Rapid Strike I
Sentinel
Shot on the Run
Slicer
Sniper Shot I
Sprint
Whirlwind Attack
Zero-G Training